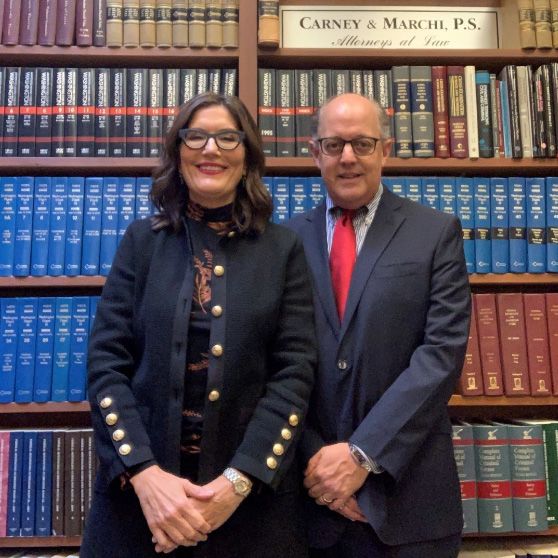 Carney & Marchi, P.S.
Michele Carney and Nicholas Marchi established Carney & Marchi, P.S. in 1993 with a passion to help people in their community.
Their reputation and knowledge are paralleled by few in the area of immigration & criminal defense law. Based in Seattle, the Firm also has an office in Kennewick. Our staff is bilingual in Spanish.
Carney & Marchi, P.S. provides caring, personal attention to cases. We are tough, aggressive advocates for our clients, and move cases toward resolution, whether through trial or negotiations with the government.
We understand how to work within the justice system and use its rules and procedures to your best advantage.
Why Choose Us?
Experience
Our attorneys have over 50 years of combined experience in immigration law and criminal defense. We have practiced at every level of the judiciary system and have an expert grasp of how to navigate it. Experience and tough-minded advocacy on behalf of our clients enable us to reach a timely and successful resolution.
Communication
At Carney & Marchi, we know the legal process can be complex and confusing. That's why we'll work with you every step of the way, providing comprehensive advice and keeping you well-informed about your case.
Compassion
We are committed to compassionate and zealous representation. Carney & Marchi measure success not only in cases won, but in creating positive changes in the lives of our clients. We have also devoted many pro bono hours to assisting those in need by conducting workshops, volunteering at clinics, and helping in the community.
Results
At Carney & Marchi, P.S. we believe in results for our clients. We listen to our clients and fight hard to win their cases. No case is too small for our firm - we believe in helping as many people as we can.
Convenient & Affordable
We analyze each case separately and will work with families on a fee that is the right fit. With offices in Seattle and Kennewick, you can make an appointment in the office most convenient for you.